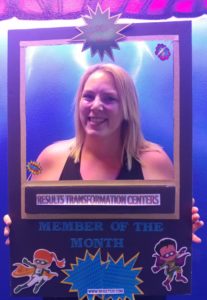 Sheena joined us as a 21-day detox challenger. Always remembering her favorite quote,
 "Just do it, even if you suck" – Nike. 
Her enthusiastic attitude and electric smile were immediately infectious. Her challenge was incredibly successful thanks in part to her favorite classes, PPP and Tabata Tuesdays. Since transitioning from a challenger to a member, Sheena has continued to shine!  Her electrifying smile makes each workout she attends so much brighter. She takes advantage of every opportunity to encourage her teammates to push further, with a smile. She is one of the first to encourage, or help any new face she meets. Her engagement, enthusiasm and attitude shine bright as a beacon exemplifying the Results Family culture for all to see.