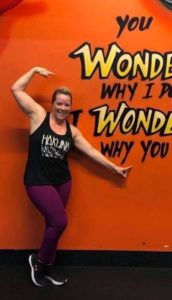 The Sparks FitFam is proud to announce Robin Merritt as our Sparks May 2019 Member of the Month! Robin has been with Results for 1 1/2 years and is loving every minute of it!! She started out as a Detoxer, joining for 3 months, and never looked back! Robin joined Results to help her deal with some life challenges and struggles as we all do, and wanted to get out of the funk she was in. Well, she has since done several member/partner challenges and crushes EVERY goal she has set for herself!
Robin says Results has made a positive impact on her life in many ways from losing over 30lbs and lots of inches, to gaining muscle, confidence and a lot of new FitFam Friends! She loves that she can just show up, put in the work, and reap those fitness benefits. And with a new granddaughter and another grandson on the way and she wants to set healthy examples for her entire family!
She loves the workouts because they are never the same, but her all time favs are Friday Night Fitness and Booty Friday! Her proudest moment was finishing the partner challenge as she reached a new goal, made more friends and says she looked and felt amazing!!
We are so proud of this awesome and inspiring Mother and Grandmother and as she put it, she is proud of her accomplishments, but she's not done yet!
"Life is not measured by the breaths we take, but by the moments that take our breath away!"