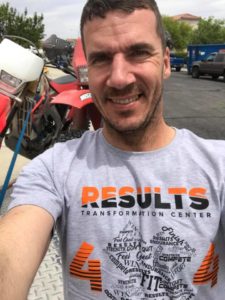 Myk and Debbie power couple! Debbie started with Results Transformation with the first challenge offered in South Reno.  Myk saw how happy it made his wife and decided to join Results! Since joining Results, Myk consistently comes in crushing his goals. Myk struggles with back pain, however knows when he stays consistent and works out it feels better in the long run. Beyond positive with all the fitfam and checking in with folks even when they miss a day, has well-earned him member of the month for April! Booking his classes and staying consistent, he shows his 4×4 team
"Rise of the Fit-ians", what accountability truly is! Working out hard, hitting double days, killing the MyZone board, and never complaining, shows what it means to be a fitfam!
What you put in to it, is exactly what you will get out of it!