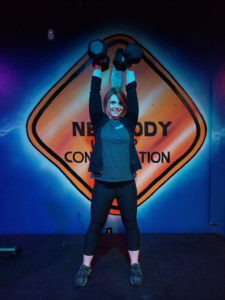 Morgan is the essence of consistency. She is one of the founding challengers for Natomas. Since joining RESULTS 3 years ago, Morgan has lost over 70 pounds.
When she is not at RESULTS, Morgan is a Veterinary Technician at UC Davis. She also lovers her two fur babies, Ginger, a terrier mix, and Nessa, a cat. She is still very active outside the gym. Morgan enjoys playing tennis and hiking but also likes to relax and watch movies.
Her favorite quote is "We are what we repeatedly do. Excellence, then, is not an act but a habit." She has worked hard to get where she is in her healthy lifestyle and shows excellence in her movement. Coaches often use Morgan to show what a movement should look like. This year "Momo" upped her game by getting a MyZone. She loves it because it pushes her further, even when she thinks she can't push herself anymore, especially during Tabata and cycling, her favorite workouts.
Morgan recommends RESULTS because of the coaches and the people she gets to meet. She says she would definitely recommend RESULTS to people because they will gain friends, family, and become healthier and happier.