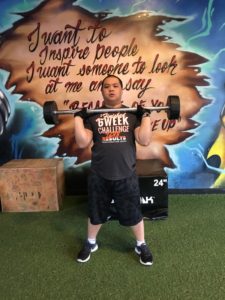 Elk Grove's March MOM is Matthew Miranda. Matthew joined seven months ago following the footsteps of his mom, Michelle, and cousin, Ryan whom are members.
Matthew, a 30-year-old, Key Data Operator for DXC Technology loves his MyZone because it allows him to track his progress and push him to the limit. His MyZone name is Matty. One of his proudest moments at Results was burning a monster 1,700 calories and earning 350 MEPs completing a double down session! Another proud moment for Matthew was losing 45 pounds completing two challenges. He enjoys the accountability offered by Results and the members.
For anyone considering joining Results, he says "It may seem like a long and windy road towards whatever goal you set but everyone is here to help you out and see to it that you meet that goal".
Matthew's favorite loves suicides! It reminds him of when he used to play high school football. If Matthew isn't in the gym, you may catch him working on scenery photography and cosplay. His favorite motivational quote are words he lives by – "Let the choices you make today be the choices you can live with tomorrow."