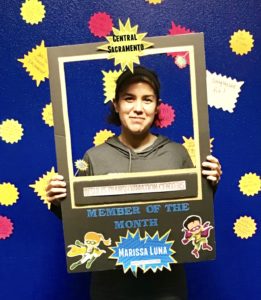 The coaches at Results Central Sacramento are proud to announce their choice for member of the month for
April 2018 –  Marissa Luna!!!
Marissa started her journey with Results as a 6-Week Challenger in March 2017 – since then, she's lost a total of over 40 pounds and has inspired others along the way.  Her "why" is her 18-month old daughter.  She has adopted this lifestyle to not only be there for her but to be her role model.  This lovable lion (she is a LEO), loves the variety here at Results and the fantastic support from her coaches.  Outside of the gym you will find her loving her job as a Special Education Teacher and spending time with her family.  In the gym, Marissa enjoys many forms of punishment such as ropes and runner sit ups, but her favorite… BURPEES!  Her biggest accomplishment; she replied: "continuing to drop the weight and making healthy choices in all areas of my life".  When it gets hard Marissa takes a minute to reflect on her favorite quote: "She believed she could, so she did"!  Her consistent effort and positive attitude is why she was nominated the member of the month.