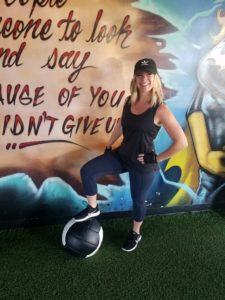 Have you met this month's Member of the Month, Mrs. Chioptle (MyZone name) aka Lisa Colridge in the gym? If not, then you haven't been to the sweaty 9am session. Thanks to some of her friend's dedication and transformations Lisa has been with Results for almost a year now. She joined for the great workouts, coaches and friendships here in the fit fam.
Being a busy mom of twin daughters and realtor, Lisa would certainly tell you that it is not easy to maintain a healthy lifestyle. For a long time, she struggled with nutrition and how to make it fit in with her goals. However, through her time with Results, she has learned how to make healthier choices and achieve her goals. Health and fitness isn't easy, especially with kids and full time job, but we are proud to say Lisa has maintained all of her weight loss and then some.
Thank you Lisa for always coming in with a smile, positive vibes, the drive to work hard and reminding us to "Be thankful for what you have and be fearless for what you want". We are lucky to have you as part of our Results Fit Fam!