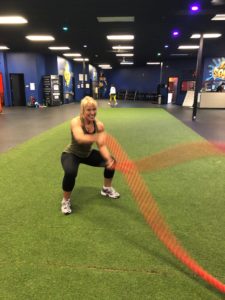 Keli is a wife, mother to her daughter and her pug named Gucci. She found Results in 2016 by participating in a 20lb challenge, because she needed that extra push to be the best version of herself not only for her, but also her loved ones. Keli is a strong believer in having that special "ME" time at Results. Keli's greatest moment was killing the Hardbody challenge. She gives credit to her coaches, FitFam, and the amazing BootyFriday music.
During your workout, keep your eye out for '4KeliV' on the MyZone board. While the workouts are going on, you can find Keli always encouraging others to push themselves to new limits and to raise the bar – safely of course!
April is lucky to have Keli as the M.O.M!
Here's a word from the wise, "Remember this is your journey against yourself and no one else." –Keli Vanatta.