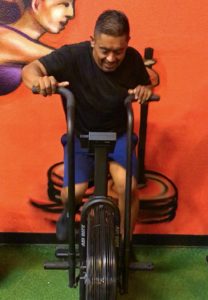 The coaches of Arden are proud to announce Jorge Ramirez as our Member of the Month for November 2018! Jorge's journey with Results began about 4 years ago when he joined the 6-Week 20 Pound Challenge and after completing three rounds and with continued focus since finishing, has lost over 80 pounds! After his challenge, Jorge knew that Results was where he needed to be to continue his fitness and weight loss journey, so he joined as a member. Jorge says that he loves Results because of his excellent coaches and the friendships that he's built – they've help keep him on track and stay motivated to continue to be the best, healthiest version of himself. Jorge made the decision to change his lifestyle – he has changed his eating habits and because of that has a lot more energy and zest for life! He says that he now loves burpees and running!
Jorge's favorite quotes: "No speak English" and "Coach, it's raining outside" – apparently, he says them a lot, but nobody believes him anymore!
Jorge doesn't realize it, but he is considered by his coaches as a role model to other members and challengers and is genuinely appreciated for his positive attitude, encouraging words to others who may be struggling, and his focus and dedication to be the best version of himself. It is for these reasons that Jorge Ramirez was unanimously chosen as Arden's November 2018 Member of the Month!