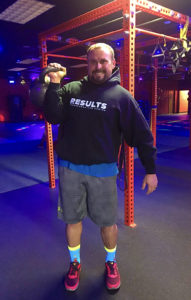 The coaches at Central Sacramento are proud to announce Dan Romero as our Member of the Month for December 2018! Dan's journey with Results began when he was sitting in the drive thru at the Jack-In-The-Box and saw a group of Results fitfam running laps around the building – He decided to join in! Dan completed two challenges and became a member in June of 2017.
Dan says that the impact he has had from being at Results is amazing to him – at home he is more confident, happy, and has more energy to spend with his wife, and four-year-old daughter! (Dan and his wife are expecting a baby boy in January 2019!) Dan has seen so many changes in his health and fitness level since starting at Results – His knee pain is gone – he is always coming in the top 3 to finish running laps – pull-ups are getting easier – he isn't afraid to have people take pictures of him – and he is more comfortable and confident shopping for clothes!
Dan's accomplishments include being able to deadlift 405 pounds, going from weighing 320 pounds to 243 pounds, and (he won't admit this) being a role model for other challengers and members to follow!
Dan has two favorite quotes that motivate him:
"When it comes to eating right and exercising, there is no I'll start tomorrow. Tomorrow is disease."
And…
"Even when life gets rough, you need to be willing to bet on yourself. It's one investment in the world you can control better than anything else. YOU ARE WORTH IT!"