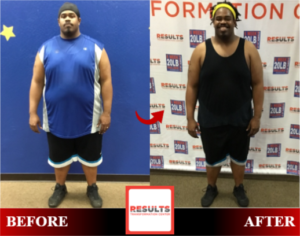 Caleb Hervey is our proud member of the month at Natomas Nation. He and his wife Latroya joined Results back in November of 2017 after a health scare. He realized it was time to find a healthier way to live to be able to enjoy a longer life with loved ones. Outside of Results, Caleb is the Program Director for Seneca Family of Agencies for Solano County, providing mental health services to children & families in the community. Whenever it is a rough day at work he can always count on being able to get a smile at Results- he knows he is always going to feel welcome by the genuine care the FITFAM has for one another.
Caleb is a man of faith. He will proudly tell you he has the best wife in the world, LaToya Hervey. They have an escape artist of a dog named Tre. He is a So. Cal guy who loves looking at the ocean and driving random places. Goonies was his favorite movie until Black Panther came out. Did we mention he likes lifting heavy? He does! Deadlifts! And cleans are always a fun favorite of his. You can find Caleb on the Myzone board- nickname: Blu Phi. Caleb appreciates how the live feedback of Myzone prevents him from slacking during workouts. His proudest Results moment was doing a box jump in over 15 years without a face plant or scraping his shins. The huge difference for him is having coaches who push him to work hard, but also, that they genuinely care. Through his faith in God, he knows all things are possible.
"For with God nothing shall be impossible." Peace and Progress!