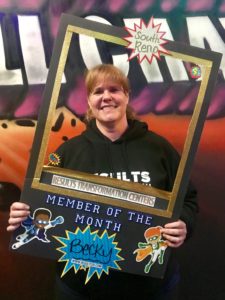 Miss Becky Taylor! Starting with the first ever challenge in the Reno/Sparks area, Becky has returned as a South Reno member. Working out consistently 5 days a week, posting on Facebook, and modifying her eating habits, Becky models what a Results member is.
Becky loves the workouts because of the different muscle groups every movement targets! All coaches and her afternoon fitfam will tell you Becky always workouts with a smile, and encourages others to "NEVER GIVE UP"! Overcoming her back pain when first returning, her and her daughter Bri, now are sparkling every day when they walk out the door.
South Reno team is proud to say Becky is our December Member of the Month!